I am BEYOND excited and thrilled to finally be sharing with the world the news of my third novel, The Spellbook of Katrina Van Tassel. It's a retelling of Washington Irving's classic short story, "The Legend of Sleepy Hollow", but told from Katrina's point of view. In addition to being a retelling, it's also something of a sequel – it continues on past the point where the original short story ended.
This is, as the saying goes, a book of my heart, and for many reasons. The first is that I love all things creepy and spooky; Halloween is by far my favorite holiday, and I've always been interested in ghosts and the paranormal and so on. This novel has allowed me to play with those things, as well as with elements of magic and witchcraft, and what was defined as witchcraft in that time and place (as you've maybe already guessed by the title!). I've been obsessed with "The Legend of Sleepy Hollow" in particular since I was a kid; I used to watch the cartoon version all the time, and to this day Tim Burton's movie version, Sleepy Hollow, is one of my all-time favorite films (with my all-time favorite film score). I also love the Sleepy Hollow TV show on Fox, and thus far my editor and I have mostly communicated about this book in GIFs of Tom Mison as Ichabod Crane 🙂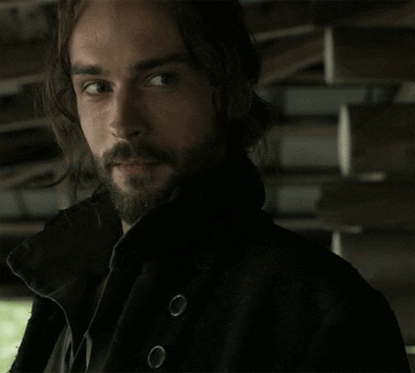 This book is just SO ME in its spookiness that when I first told my mom I was writing it, she just looked at me and asked, "How was this not your first book?"
There are lots of other reasons this book is very close to my heart, though. Like my first two books, it has a strong female friendship, though in Spellbook that friendship, between Katrina and a character I've invented named Charlotte Jansen, really takes center stage. I have such wonderful, close, supportive female friends in my life who really inspired me to try to render the full truth of that relationship on the page, and show how our friendships can really anchor and support women through our most difficult times. I've seen this play out in my own life so much that I knew it was something I wanted to explore more deeply in my writing.
In addition, Katrina is also the first character I've written who is a writer herself. Through much of the book, she tells stories; she tells the local ghost stories and legends of Sleepy Hollow and the Hudson River Valley, and eventually she starts writing them down. This, plus the fact that this novel is based on one of America's most famous short stories, really makes this a story about stories.
And that's another thing: this will be my first published novel set in the United States, in my own country. I learned so much about the history of my country that I never knew while researching this book, and while I'm certainly not done writing about Europe and Italy in particular, it was a wonderful and meaningful change of pace for me to write an American story. It won't be the last!
Music also plays a part in this book (though not so heavily as it did in Violinist), and Katrina is also my first heroine who has a dog! As a dog lover myself, I just couldn't resist giving her a handsome, ferocious, but sweet canine companion. And for my fellow dog lovers, please note: ABSOLUTELY NOTHING BAD happens to the dog over the course of the book, I promise!!
You can check out my Pinterest inspiration board for the novel here.
I love this book so much and it is so meaningful to me in so many ways that I'm thrilled to be able to share it with the world at last! I can't wait until it is on shelves for others to read, but in the meantime stay tuned for more updates on the book – such as the official release date, synopsis, and cover – as I have them. I am so excited for you all to meet my Katrina!